While much attention is being paid to maintain hygiene and physical health, it is essential to take care of your mental health especially in times of nation lock-down.
Coronavirus has led to chaos globally. Several countries have been lock-down to prevent the spread of the pandemic. The spread of the pandemic can have major emotional fall-outs. Among senior citizens, the effect of social distancing may have greater effect. Social isolation can lead to sadness, anxiety and mood swings. In some extreme cases, it may even lead to depression.While a lot has been done to maintain physical health of the citizens. Unfortunately, very little has been done about mental health.
As per Maslow's hierarchy of needs, social interaction is very important to fulfill our psychological needs and thus stay healthy.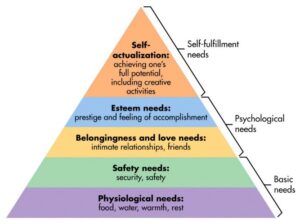 Seniors may feel more vulnerable and lonelier. They have no or limited commercial activities to do. Lack of enough physical strength and flexibility will limit what they can do at home too.
But here is how you can keep yourself mentally healthy.  First of all, remember each moment of life is worth living with zeal. Life will return as much as you give it.
Self-help is the best help. You are responsible for your own happiness. You have to decide that you are going to be happy.
Avoid attempting unnecessary things like cleaning lofts, mopping, carrying heavy objects, etc.
Do your daily chores carefully to avoid any fall or injury.Do everything slowly and take care of your limitations.You may require more time to complete your daily chores when you don't have helpers attending to your daily needs.
Take your medicines regularly to avoid any health complications.
Seek help of neighbors for things that are beyond your capacity. Do not shy away from seeking help.
Keep your windows open for fresh air and light to come in. This will brighten your mood. It is also important for sanitation. Stand near the window and appreciate nature.
Cultivate your hobby – Read books, sing songs, watch movies, indulge in art therapy – do things that bring you joy.
Learn technology. This is the time to get better at using technology by yourself. Trust yourself and don't be afraid of exploring.
Pull out old picture albums and re-live happy memories.
Call up old friends and colleagues. You will feel happy. Knowing that you are not alone, will calm you down. Use facetime or video calls to compensate for your social needs.
If you like writing, this is the time to do so. Share it with your friends.
Read newspapers. Watch T. V. Avoid reading only news about Covid-19. Read other articles too. While watching T. V., watch some serials, movies, other informative programs instead of watching news all day.
It is quite effective in arousing positivity.
If you feel sad or hopeless for a long time, consult a psychologist. Seeking help to meet your emotional health is as important as your physical health.
Stay home and make the best of the time.
Know more about Coronavirus (COVID-19), its symptoms, the precautionary measures and latest updates on Seniors Today – Click Here